THE IMPLEMENTATION OF EFFICIENT TRADE MATRIX AND GOLD RESERVE REQUIREMENT FOR COMMODITY TRADE AMONG ASEAN COUNTRIES
Keywords:
Asian Crisis, Efficient Trade Matrix, Gold Reserve Requirement, Commodity Trade, ASEAN
Abstract
Objective - This study attempts to implement the efficient trade matrix among five selected ASEAN countries and its settlement by the gold reserve requirements through Multi-Bilateral Payments Arrangement (MBPA).

Methods – The study is a qualitative research with analytic description. The purpose of this qualitative-descriptive study is to simulate the implementation of gold in the Multi-Bilateral Payment Arrangement among ASEAN countries using the current trade data.

Results – This paper argues that the Southeast Asian countries can solve the problem through their internal coordination, particularly in terms of trade. One of the efforts is to reduce even eliminate the market risk by using the efficient payment arrangement.

Conclusions – The study implied that the quantity amount of gold required to settle the trade balance will be reduced from the early gross payment. However, the ASEAN countries need to strengthen the cooperation among them through maximizing the trade relationship.
References
Alberto Alesina, R. J. (2002). Optimal Currency Areas. NBER Macroeconomics Annual, Volume 17, 302-356.
Alesina, a. R. (2000). Economic integration and political disintegration. American Economic Review, December, 1276-1296.
ASEAN, S. (2008). ASEAN Economic Community Blueprint. Indonesia: ASEAN Secretariat.
Bacha, O. I. (2008). A common currency area for ASEAN? Issues and feasibility. Applied Economics Volume 40, 515–529.
Yusuf, M. B., Meera, A. K. M., Mat Ghani, G., Abdul Manap, T. A., & Larbani, M. (2012). Efficient trade matrix and gold reserve requirement for commodity trade among OIC countries. Middle East Journal of Scientific Research (MEJSR), 12(4), 547-559.
Lee, G. H. (2011). Gold dinar for the Islamic countries? Science Direct, Economic Modelling 1573–1586.
Meera, A. K. (2004). The Gold Dinar in International Trade. In A. K. Meera, The theft of nations returning to gold (pp. 87-100). Selangor: Pelanduk Publications.
Meera, A. K., & Larbani, M. (2004). The Gold Dinar; the Next Component in Islamic Economics, Banking and Finance. Review of Islamic Economics, 5-34.
Meera, A., & Aziz, H. (2002). The Islamic Gold Dinar: Socio-Economic Perspectives. International Conference on Stable and Just Global Monetary System, (pp. 151-175). Kuala Lumpur.
Mohamad, M. (11 January, 2012). West needs to go back to capitalist basics, opinion column. Retrieved 25 December, 2014, from financial times: http://www.ft.com/intl/cms/s/0/9f60aff2-3ba8-11e1-bb39-00144feabdc0.html#axzz3MxrwoLNX
Whalley, J. (1998). Why Do Countries Seek Regional Trade Agreements? National Bureau of Economic Research, 63-90.
Woertz, D. E. (2006 May, 8). Mirages of Western Gold Bugs: The Islamic Gold Dinar, the Iranian Oil Bourse and the Gold Standard. Retrieved 25 December, 2014, from Gulf Research Centre: http://www.321gold.com/editorials/woertz/woertz050806.html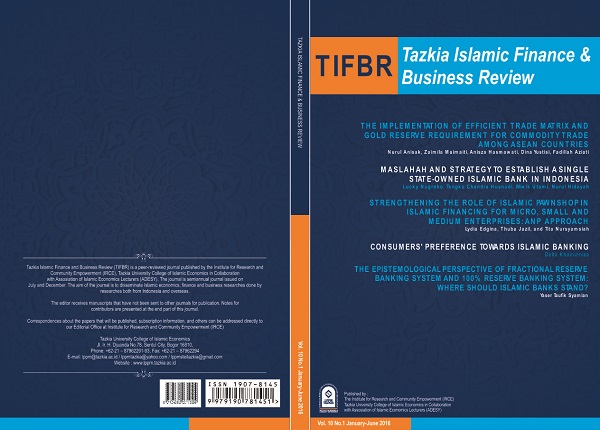 Downloads
License

Tazkia Islamic Finance and Business Review (TIFBR) is licensed under a Creative Commons Attribution-NonCommercial 4.0 International License.
Authors who publish with this journal agree to the following terms:
Authors retain copyright and grant the journal right of first publication with the work simultaneously licensed under a Creative Commons Attribution License that allows others to share the work with an acknowledgment of the work's authorship and initial publication in this journal.
Authors are able to enter into separate, additional contractual arrangements for the non-exclusive distribution of the journal's published version of the work (e.g., post it to an institutional repository or publish it in a book), with an acknowledgment of its initial publication in this journal.
Authors are permitted and encouraged to post their work online (e.g., in institutional repositories or on their website), as it can lead to productive exchanges, as well as earlier and greater citation of published work (See the Effect of Open Access).
Abstract viewed = 144 times