STRENGTHENING THE ROLE OF ISLAMIC PAWNSHOP IN ISLAMIC FINANCING FOR MSMES: ANP APPROACH
Keywords:
Islamic pawnshop, Ar-Rum (financing for MSMEs), ANP and Socialization
Abstract
Objectives: aims to strengthen the role of Islamic pawnshop in financing for Micro Small & Medium Enterprises

Methods: analytic network process (ANP) approach

Results: the main problem of Islamic pawnshop in expansion was its internal. The most priority was on socialization through promotion and advertisement. The appropriate strategy to be executed was marketing strategy to expand Ar-Rum product (financing for MSMEs) through sales marketing.

Conclusion: the considered action was massive socialization to the societies using effective and efficient marketing strategy.
References
Divisi Pemasaran & Market Intelligence, 2015, Pegadaian Serba Bisa..., PT. Pegadaian (Persero), Jakarta.
Hidayati, Juliza, 'Penerapan Analytical Network Process (ANP) Pada Sistem Pengukuran Kinerja di Kebun Sidamanik Pematang Siantar', J@TI Undip, Vol. VII, No. 1.
Ibrahim, Fadly, dkk, 2013, Perbandingan Hasil Pemilihan Trase jalan dengan Menggunakan Pendekatan AHP dan ANP (Study kasus: Pengembangan Jalan Kolektor Provinsi Gorontalo) (055T), Konferensi Nasional Teknik Sipil 7 (KoNTekS 7), Surakarta.
Mahalli, Kasyfu dan Saputra, Randi, 2014, 'Analisis Potensi dan Kendala Pengembangan Pegadaian Syariah di Kota Medan' Jurnal Ekonomi dan Keuangan Vol. 2 No. 4, hal. 221-235.
Muftifiandi, 2015, 'Peran Pembiayaan Produk Ar-Rum Bagi UMKM Pada PT. Pegadaian (Persero) Cabang Syariah Simpang Patal Palembang', I-Finance, Vol. 1, No. 1, hal. 93-114.
Muliawaty, Inne, 2012, Perumusan Strategy Pemasaran Perum Pegadaian Cabang Kemayoran, Skripsi fakultas Ekonomi dan Manajemen Institut Pertanian Bogor.
Nisfi, Lailatul, 2016, 'Pengaruh Pembiayaan ARRUM Pegadaian Syariah Terhadap Pendapatan UMKM Nasabah dan Pendapatan Pegadaian Syariah (Studi Kasus Pada PT. Pegadaian (Persero) Cabang Pegadaian Syariah Landungsari Kota Malang)', Jurnal Ilmiah.
Putra, P Ivand C, 2013, 'Prosedur Pemberian Kredit Usaha Mikro Kecil dan Menengah Pada PT. Pegadaian Cabang Singaraja', Jurnal Akuntansi Profesi, Vol.3, No. 2, hal. 162-170.
Rais, Sasli dan Wakhyudin, 2003, 'Pengembangan Pegadaian Syariah di Indonesia dengan Analisis SWOT', Jurnal Pegembangan Bisnis & Manajemen STIE PBM, Vol. IX, No. 14.
Sugiyono, 2005, Memahami Penelitian Kualitatif, CV. Alfabeta, Bandung.
Sumarwan, Ujang, 2014, Metode Riset Bisnis dan Konsumen, IPB Press, Bogor.
Triandru, Sigit el al, 2000, Bank dan Lembaga Keuangan Lain, Salemba Empat, Jakarta.
www.pegadaian.co.id
www.ojk.go.id
www.republika.co.id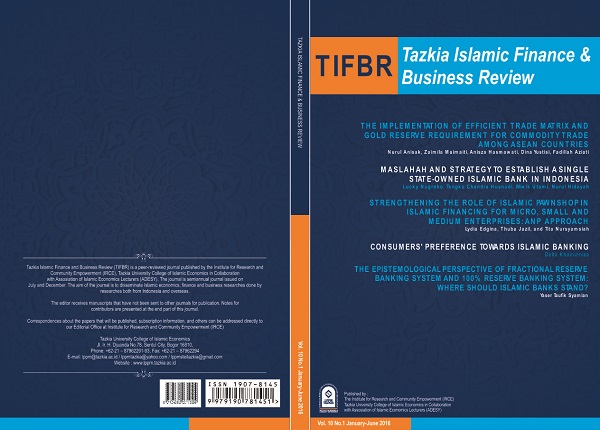 Downloads
License

Tazkia Islamic Finance and Business Review (TIFBR) is licensed under a Creative Commons Attribution-NonCommercial 4.0 International License.
Authors who publish with this journal agree to the following terms:
Authors retain copyright and grant the journal right of first publication with the work simultaneously licensed under a Creative Commons Attribution License that allows others to share the work with an acknowledgment of the work's authorship and initial publication in this journal.
Authors are able to enter into separate, additional contractual arrangements for the non-exclusive distribution of the journal's published version of the work (e.g., post it to an institutional repository or publish it in a book), with an acknowledgment of its initial publication in this journal.
Authors are permitted and encouraged to post their work online (e.g., in institutional repositories or on their website), as it can lead to productive exchanges, as well as earlier and greater citation of published work (See the Effect of Open Access).
Abstract viewed = 324 times