The Effect of FDI and Corruption to Human Development in OIC Countries
Abstract
This study aims to see the direct and indirect effect of FDI and corruption to Human Development in OIC Countries. Nine countries are selected representing the medium to very high human development category in OIC Countries (Egypt, Indonesia, Jordan, Malaysia, Morocco, Kazakhstan, Kyrgyzstan, Turkey, and Tunisia). Using a combination of path diagram and panel data analysis, the result of this research indicates corruption has both direct and indirect effect through economic growth to human development in 9 OIC countries, while economic growth and FDI restrictiveness have a direct effect.
Keywords: Foreign Direct Investment, Corruption, Human Development, OIC
Abstrak. Penelitian ini bertujuan untuk melihat pengaruh langsung dan tidak langsung dari investasi langsung luar negeri (FDI) dan korupsi terhadap pembangungan manusia di negara-negara OKI. Dalam hal ini, 9 negara dipilih yang merepresentasikan kategori tingkat pembangunan manusia menengah dan tinggi di antara negara-negara OKI (Mesir, Indonesia, Yordania, Malaysia, Maroko, Kazakhstan, Kirgistan, Turki, dan Tunisia). Dengan menggunakan kombinasi diagram jalur dan analisis data panel, hasil penelitian menunjukkan bahwa korupsi berpengaruh terhadap tingkat pembangungan manusi di negara-negara OKI baik secara langsung maupun tidak langsung melalui pertumbuhan ekonomi. Sementara itu, pertumbuhan ekonomi dan pembatasan FDI memiliki pengaruh langsung.
Keywords: Investasi Langsung Luar Negeri, Korupsi, Pembagunan Manusia, OKI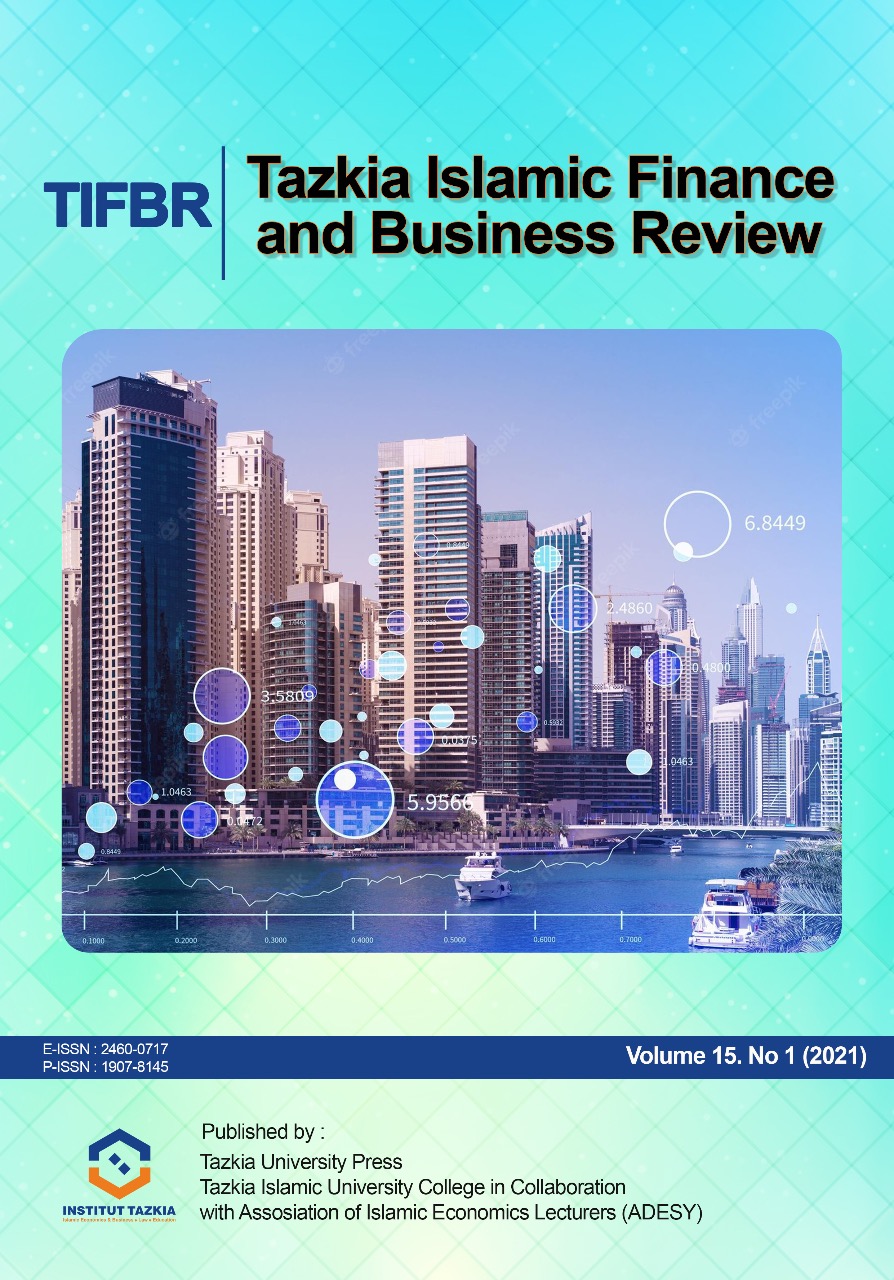 Downloads
License
Copyright (c) 2022 Author and Publisher
This work is licensed under a Creative Commons Attribution-NonCommercial-ShareAlike 4.0 International License.

Tazkia Islamic Finance and Business Review (TIFBR) is licensed under a Creative Commons Attribution-NonCommercial 4.0 International License.
Authors who publish with this journal agree to the following terms:
Authors retain copyright and grant the journal right of first publication with the work simultaneously licensed under a Creative Commons Attribution License that allows others to share the work with an acknowledgment of the work's authorship and initial publication in this journal.
Authors are able to enter into separate, additional contractual arrangements for the non-exclusive distribution of the journal's published version of the work (e.g., post it to an institutional repository or publish it in a book), with an acknowledgment of its initial publication in this journal.
Authors are permitted and encouraged to post their work online (e.g., in institutional repositories or on their website), as it can lead to productive exchanges, as well as earlier and greater citation of published work (See the Effect of Open Access).
Abstract viewed = 245 times