The Prospects of Islamic Microfinance: Maqasid Shariah Perspective
Abstract
Islamic microfinance is one of the instruments that has been scientifically demonstrated to help the poor and needy. The instrument aims to help the underprivileged by giving them access to financing based on Shariah principles for lucrative activities, primarily small and micro-businesses. Notwithstanding that the Islamic microfinance providers claim that they comply with the Islamic rulings (hukm), little attention has been paid to the extent to which the practice addresses the maqasid (objectives) shariah. Such claim of Shariah-compliant practice will be rendered meaningless if maqasid shariah are not realised. Hence, the present paper aims to explore the significance and prospects of the Islamic microfinance practice from the standpoint of maqasid shariah. The library research, inductive, deductive and analytical techniques are employed consistently. The findings reveal that Islamic microfinance has a significant roles in realising the major maqasid shariah, namely: safeguarding the religion, human life, intellect wealth and progeny. These prospects convey the perception that much effort needs to be done to encourage the offering of Islamic microfinancial products at the Islamic finance sectors at large. Future studies may propose maqasid shariah guidelines for the better practice of Islamic microfinance.
Keywords: Islamic Microfinance, Maqasid Shariah, Poor Population, Prospects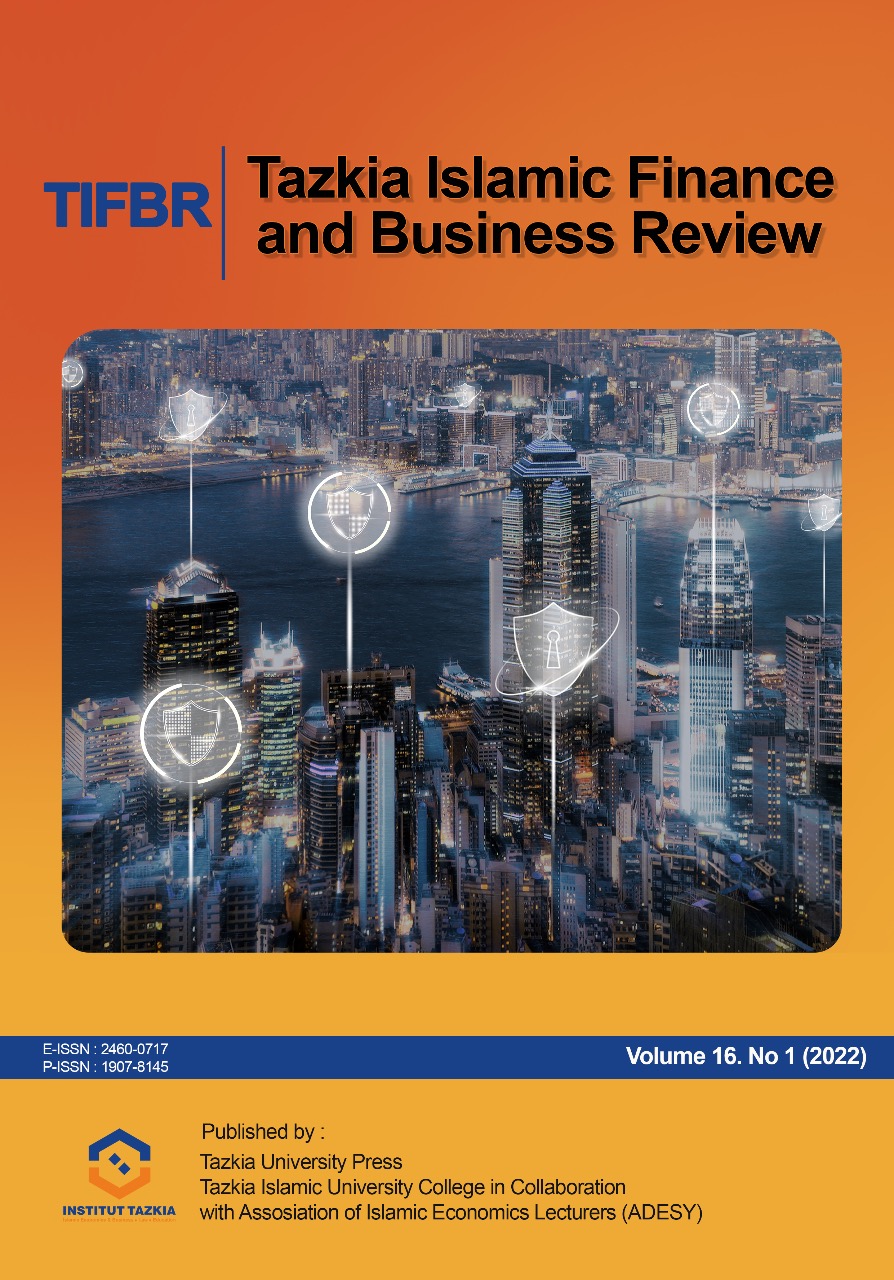 Downloads
License
Copyright (c) 2022 Author and Publisher
This work is licensed under a Creative Commons Attribution-NonCommercial-ShareAlike 4.0 International License.

Tazkia Islamic Finance and Business Review (TIFBR) is licensed under a Creative Commons Attribution-NonCommercial 4.0 International License.
Authors who publish with this journal agree to the following terms:
Authors retain copyright and grant the journal right of first publication with the work simultaneously licensed under a Creative Commons Attribution License that allows others to share the work with an acknowledgment of the work's authorship and initial publication in this journal.
Authors are able to enter into separate, additional contractual arrangements for the non-exclusive distribution of the journal's published version of the work (e.g., post it to an institutional repository or publish it in a book), with an acknowledgment of its initial publication in this journal.
Authors are permitted and encouraged to post their work online (e.g., in institutional repositories or on their website), as it can lead to productive exchanges, as well as earlier and greater citation of published work (See the Effect of Open Access).
Abstract viewed = 105 times