Improving Sharia Risk Compliance: Proposing Daily Index for Mudharaba Contract in Islamic Banks in Indonesia
Abstract
Objective – The objective of this paper is to analyze the profit distribution method applied in Islamic banks in Indonesia and to propose better method in order to improve sharia risk compliance.
Methods – Employing a descriptive quantitative method and literature review. This paper evaluate weaknesses of the current profit distribution method and proposes daily revenue index to solve the problems arising from using current method which is unfairness between bank and customers.
Results – By the two current profit distribution methods which use monthly revenue index calculated only at the end of the month, there are potential injustices occur. Therefore, instead of using monthly index, daily index is proposed. There are two steps in calculating profit distribution by using daily revenue index: (1) Accumulating Source of Fund (SoF), Reserve Requirement (RR), and Source of Fund after Reserve Requirement (SoFaRR), and (2) Determining Average Financing (AF), Revenue Index (RI), Cost Index (CI), Revenue Sharing Index (RSI), and Profit Sharing Index (PSI).
Conclusion - Daily revenue index will solve the unfairness problems arise from current profit distribution method applied in Islamic banks. Daily revenue index is also applicable if Islamic banks apply profit and loss sharing instead of revenue sharing.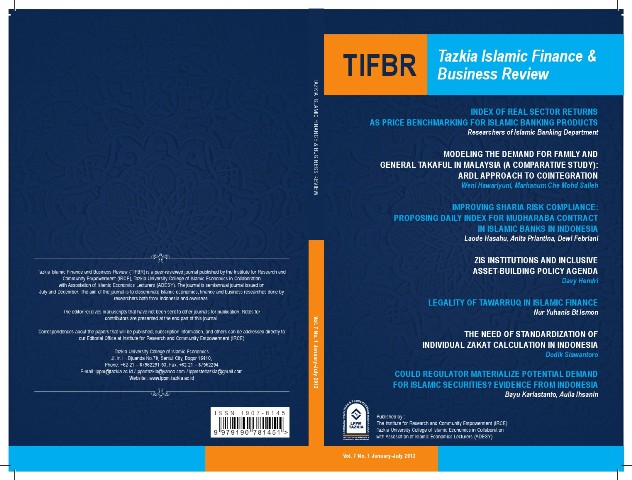 Downloads
License

Tazkia Islamic Finance and Business Review (TIFBR) is licensed under a Creative Commons Attribution-NonCommercial 4.0 International License.
Authors who publish with this journal agree to the following terms:
Authors retain copyright and grant the journal right of first publication with the work simultaneously licensed under a Creative Commons Attribution License that allows others to share the work with an acknowledgment of the work's authorship and initial publication in this journal.
Authors are able to enter into separate, additional contractual arrangements for the non-exclusive distribution of the journal's published version of the work (e.g., post it to an institutional repository or publish it in a book), with an acknowledgment of its initial publication in this journal.
Authors are permitted and encouraged to post their work online (e.g., in institutional repositories or on their website), as it can lead to productive exchanges, as well as earlier and greater citation of published work (See the Effect of Open Access).
Abstract viewed = 147 times