Analisis Faktor-Faktor Yang Mempengaruhi Kinerja Organisasi Pengelola Zakat
Abstract
Penelitian ini menguji faktor-faktor yang memiliki pengaruh signifikan terhadap kinerja efisiensi Organisasi Pengelola Zakat (OPZ). Efisiensi dalam penelitian ini difokuskan pada rasio program spending terhadap total spending. Penelitian ini merupakan penelitian empiris yang menggunakan data primer dan sekunder dengan metode cross section dari dua puluh tiga sampel OPZ. dengan menggunakan metode Ordinary Least Square (OLS), hasil penelitian ini menyimpulkan bahwa komposisi Dewan Pembina tidak memiliki pengruh yng signifikan terhdp efisiensi OPZ. Namun rasio jumlah Dewan Pengawas terhadap Direktur Pelaksana memiliki pengaruh yang signifikan secara statistik dengan efisiensi OPZ. Semakin tinggi rasio jumlah Dewan Pengawas terhadap Direktur Pelaksana, semakin efisien suatu OPZ. Demikian juga keberadaan laporan auditor independen akan meningkatkan efisiensi OPZ. Empat variabel independen lainnya yaitu, perubahan kompensasi yang dibayarkan kepada pegawai, penerapan program manajemen dan system budaya yang efficiency emphasis, struktur kelembagaan OPZ dan ukuran (size) OPZ tidak terbukti memiliki pengaruh yang signifikan terhadap efisiensi. Variabel ekplanatori dalam model penelitian ini mampu menjelaskan 64.4 persen variasi pergerakan efisiensi OPZ.
JEL Classification : I30, L23, L25, L30
Keywords : OPZ, Kinerja Efisiensi, Program spending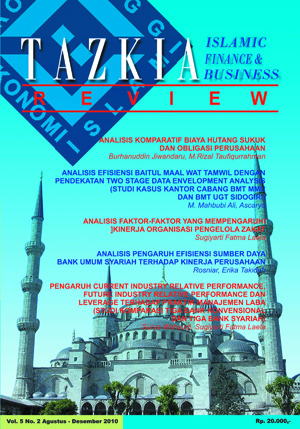 Downloads
License

Tazkia Islamic Finance and Business Review (TIFBR) is licensed under a Creative Commons Attribution-NonCommercial 4.0 International License.
Authors who publish with this journal agree to the following terms:
Authors retain copyright and grant the journal right of first publication with the work simultaneously licensed under a Creative Commons Attribution License that allows others to share the work with an acknowledgment of the work's authorship and initial publication in this journal.
Authors are able to enter into separate, additional contractual arrangements for the non-exclusive distribution of the journal's published version of the work (e.g., post it to an institutional repository or publish it in a book), with an acknowledgment of its initial publication in this journal.
Authors are permitted and encouraged to post their work online (e.g., in institutional repositories or on their website), as it can lead to productive exchanges, as well as earlier and greater citation of published work (See the Effect of Open Access).
Abstract viewed = 1244 times