Analisis Komparasi Pembentukan Gap Sensitivitas Sebagai Instrumen Manajemen Risiko (Studi Pada Bank Umum Konvensional Dan Bank Umum Syari`ah)
Abstract
Penelitian ini merupakan penelitian kuantitatif dengan studi komparatif yang bertujuan untuk mengetahui posisi gap yang terbentuk pada Bank Umum Konvensional dan Bank Umum Syari`ah serta membadingkan dampaknya terhadap perubahan suku bunga sehingga dapat ditentukan gap terbaik. Posisi gap terbentuk oleh struktur gap dengan metode gap sensitivitas, Analisis korelasi dan volatilitas digunakan untuk mengetahui sejauhmana variabel-variabel suku bunga mempengaruhi suku bunga benchmark (SBI dan SWBI) serta Uji F statistik untuk menguji hipotesis. Data yang digunakan adalah data sekunder berupa laporan keuangan Bank Umum Konvensional dan Bank Umum Syariah tahun 2004-2008 serta suku bunga domestic periode Januari 2004-Desember 2008. Hasil penelitian menujukkan bahwa Gap terbaik pada BUK terbentuk oleh Bank Mayapada, untuk BUS pada Bank Syari`ah Mandiri, sementara secara keseluruhan pembentukan gap terbaik adalah Bank Syari`ah Mandiri. Sehingga dapat disimpulkan bahwa bank syariah memiliki pembentukan posisi gap yang lebih baik dari pada bank konvensional selama periode 2004-2008.
JEL Classification : E5, G21
Kata Kunci : Manajemen Risiko, Gap Sensitivitas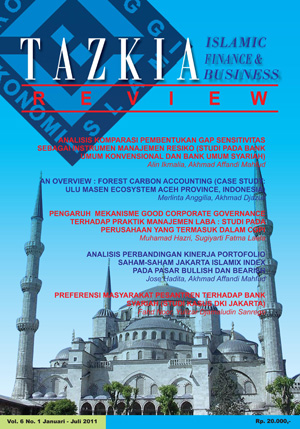 Downloads
License

Tazkia Islamic Finance and Business Review (TIFBR) is licensed under a Creative Commons Attribution-NonCommercial 4.0 International License.
Authors who publish with this journal agree to the following terms:
Authors retain copyright and grant the journal right of first publication with the work simultaneously licensed under a Creative Commons Attribution License that allows others to share the work with an acknowledgment of the work's authorship and initial publication in this journal.
Authors are able to enter into separate, additional contractual arrangements for the non-exclusive distribution of the journal's published version of the work (e.g., post it to an institutional repository or publish it in a book), with an acknowledgment of its initial publication in this journal.
Authors are permitted and encouraged to post their work online (e.g., in institutional repositories or on their website), as it can lead to productive exchanges, as well as earlier and greater citation of published work (See the Effect of Open Access).
Abstract viewed = 297 times