An Overview: Forest Carbon Accounting (Case Study Ulu Masen Ecosystem Aceh Province, Indonesia)
Abstract
This thesis is descriptive qualitative research of forest carbon accounting and Ulu Masen Ecosystem of Aceh Province where included in REDD projects for Carbon Trading scenario. The data which is applied in this research are primary data from the field in Ulu Masen Ecosystem Aceh Province and secondary data of International references worldwide related to this issue. The main purpose of this research is to reveal further overview of forest carbon accounting, REDD issues and promote them into publics, accountants, economist as the main role of accountants are not focusing in financial, banking, insurance only but also as social and environment accountants. To probe the Islamic outlook towards these issues and acknowledge local community where REDD projects upcoming to. The research gained information of Aceh Government initiative to have carbon trading of carbon offsets as REDD scheme scenario based on both in Voluntary Carbon Offsets (VCO) and Clean Development Mechanism (CDM) market. Nowadays, both Aceh Government and Merrill Lynch have committed to get carbon trading for 750,000 hectares of Aceh forests in Ulu Masen Ecosystem in total of US $ 9 Million over next 30 years, right after Aceh Government gain verification audit of carbon storage in the ecosystem internationally.
JEL Classification : M0, M41, N55, L31
Key words: Forest carbon accounting, carbon trading, REDD, Ulu Masen ecosystem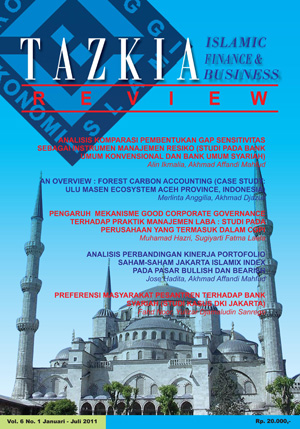 Downloads
License

Tazkia Islamic Finance and Business Review (TIFBR) is licensed under a Creative Commons Attribution-NonCommercial 4.0 International License.
Authors who publish with this journal agree to the following terms:
Authors retain copyright and grant the journal right of first publication with the work simultaneously licensed under a Creative Commons Attribution License that allows others to share the work with an acknowledgment of the work's authorship and initial publication in this journal.
Authors are able to enter into separate, additional contractual arrangements for the non-exclusive distribution of the journal's published version of the work (e.g., post it to an institutional repository or publish it in a book), with an acknowledgment of its initial publication in this journal.
Authors are permitted and encouraged to post their work online (e.g., in institutional repositories or on their website), as it can lead to productive exchanges, as well as earlier and greater citation of published work (See the Effect of Open Access).
Abstract viewed = 208 times