Preferensi Masyarakat Pesantren Terhadap Bank Syariah (Studi Kasus DKI Jakarta)
Abstract
Sebagai basis pendidikan Islam, pondok pesantren berpotensi besar dalam pertumbuhan perbankan syariah di Indonesia khususnya di DKI Jakarta. Namun potensi tersebut belum diperhatikan secara maksimal oleh praktisi perbankan syariah. Hal ini dapat diindikasikan dengan masih minimnya masyarakat pesantren yang menjadi nasabah bank syariah. Tulisan ini ingin melihat sejauh mana preferensi masyarakat pesantren terhadap bank syariah khususnya di DKI Jakarta, dengan menggunakan metode regresi logistik (Logit) yang terdiri dari variable dependen ( Y0 = Non-nasabah dan Y1 = Nasabah) dan beberapa variable independen yang terdiri dari pendidikan, penghasilan, pengetahuan, akses, profesionalitas, fasilitas, popularitas dan bunga bank. Dari hasil hasill analisis yang dilakukan diketahui bahwa pengetahuan dan akses sanggat berpengaruh positif terhadap masyarakat pesantren. Sementara profesionalitas dan fasilitas justru berpengaruh negatif, hal ini dikarenakan masih minimnya pengetahuan masyarakat pesantren terhadap bank syariah sehingga mereka tidak berminat menggunakan bank syariah bahkan lebih cenderung menggunakan bank konvensional. Sosialisasi akan perbankan syariah di indonesia khususnya di DKI Jakarta terhadap masyarakat masih sangat minim khususnya masyarakat pesantren, dibutuhkannya peran dari seluruh stake holder untuk mendukung serta mensosialisasikan perbankan syariah secara berkelanjutan dan tepat sasaran.
JEL Classification : G21
Kata Kunci : Perbankan syariah, Masyarakat pesantren, Preferensi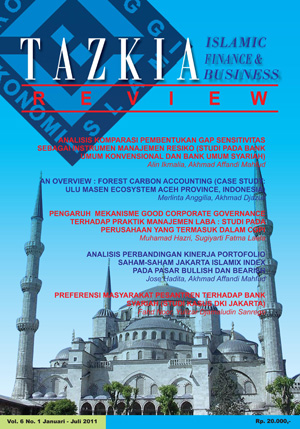 Downloads
License

Tazkia Islamic Finance and Business Review (TIFBR) is licensed under a Creative Commons Attribution-NonCommercial 4.0 International License.
Authors who publish with this journal agree to the following terms:
Authors retain copyright and grant the journal right of first publication with the work simultaneously licensed under a Creative Commons Attribution License that allows others to share the work with an acknowledgment of the work's authorship and initial publication in this journal.
Authors are able to enter into separate, additional contractual arrangements for the non-exclusive distribution of the journal's published version of the work (e.g., post it to an institutional repository or publish it in a book), with an acknowledgment of its initial publication in this journal.
Authors are permitted and encouraged to post their work online (e.g., in institutional repositories or on their website), as it can lead to productive exchanges, as well as earlier and greater citation of published work (See the Effect of Open Access).
Abstract viewed = 573 times