Legality of Tawarruq in Islamic Finance
Abstract
Objective – Islamic finance has been established as an alternative to the conventional banking system which is made up component not permitted under Shariah. Tawarruq is one of the Islamic finance products which commonly used in Islamic banks. This research assesses two important areas which include the principle of Tawarruq in Fiqh perspective and the practical aspect of such principle in Islamic banks in Malaysia.
Method – The method used for this research is comparative analysis.
Result – This research begins to explore the different views of the proponent and opponents toward the legality of Tawarruq in Fiqh . Instead of considering the basic condition of the valid sale, the other aspect has to be pondered by the contemporary scholars to render Tawarruq is valid sale according to Shariah. The legality of Tawarruq has been debate by some scholars. Due to that, there are different resolution and rulings from Islamic countries on legality of of Tawarruq . In the practical aspect, Tawarruq has been used in Malaysia by Bursa Malaysia Suq Al Sila' as a trading platform and it uses Crude Palm Oil (CPO) as the commodity in Tawarruq transaction. While, in the Middle East, it uses London Metal Exchange (LME) in dealing with commodity transaction through Tawarruq principle.
Conclusion – Based on the legal argument on the permissibility of Tawarruq , it can be summarized that Tawarruq is permissible but subject to certain condition. Provided that genuine Tawarruq is permissible than organized Tawarruq in Tawarruq transaction.
Keywords: Tawarruq, Murabahah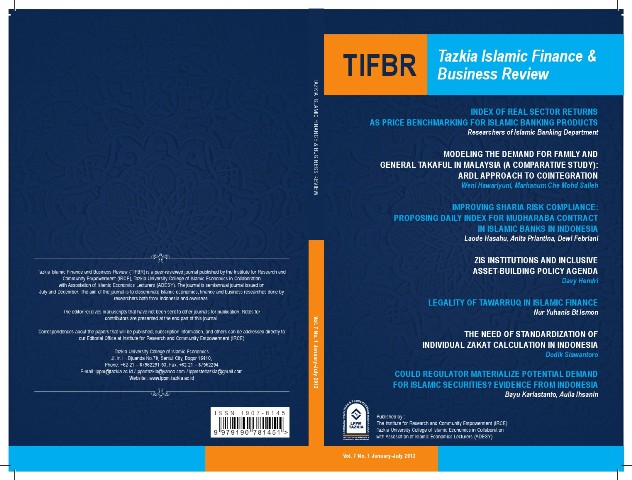 Downloads
License

Tazkia Islamic Finance and Business Review (TIFBR) is licensed under a Creative Commons Attribution-NonCommercial 4.0 International License.
Authors who publish with this journal agree to the following terms:
Authors retain copyright and grant the journal right of first publication with the work simultaneously licensed under a Creative Commons Attribution License that allows others to share the work with an acknowledgment of the work's authorship and initial publication in this journal.
Authors are able to enter into separate, additional contractual arrangements for the non-exclusive distribution of the journal's published version of the work (e.g., post it to an institutional repository or publish it in a book), with an acknowledgment of its initial publication in this journal.
Authors are permitted and encouraged to post their work online (e.g., in institutional repositories or on their website), as it can lead to productive exchanges, as well as earlier and greater citation of published work (See the Effect of Open Access).
Abstract viewed = 900 times