The Role of Training and Promotion to Increase The 3rd Party Funds Indonesian Islamic Banking
Abstract
Objective – This study aims to determine whether the role of training is much larger than the promotion in raising third-party funds in Islamic banks in Indonesia given the cost of the training is spent is greater than the cost of promotion. This study empirically examines the relationship and impact of training and promotion to raise funds for a 3rd party in Indonesia Islamic banks.
Methods – This study uses secondary data Islamic commercial banks in the form of panel (time-series and cross-section) of Bank Indonesia data from 2010 until 2012. There are two independent variables training cost (X1) and promotion cost (X2) and one dependent variable is 3rd-party funds (Y). The analysis technique used path analysis to examine the role of training and the promotion of financial performance (The 3rd Party Funds).
Result – Simultaneously, training and promotion gives an effect by 52%, and partially or individual training gives an insignificant negative effect, while the promotion has a significant positive impact on financial performance (financial-party funds) on Islamic banking.
Conclusion – The role of promotion is higher in raising The 3rd Party Funds than training.
Keywords : Cost, Training, Promotion, The 3rd Party Funds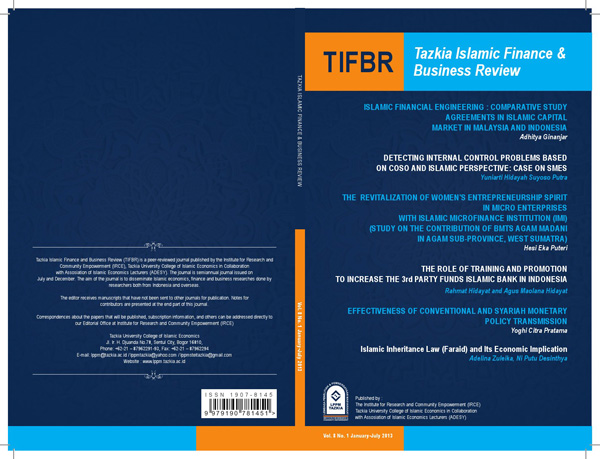 Downloads
License

Tazkia Islamic Finance and Business Review (TIFBR) is licensed under a Creative Commons Attribution-NonCommercial 4.0 International License.
Authors who publish with this journal agree to the following terms:
Authors retain copyright and grant the journal right of first publication with the work simultaneously licensed under a Creative Commons Attribution License that allows others to share the work with an acknowledgment of the work's authorship and initial publication in this journal.
Authors are able to enter into separate, additional contractual arrangements for the non-exclusive distribution of the journal's published version of the work (e.g., post it to an institutional repository or publish it in a book), with an acknowledgment of its initial publication in this journal.
Authors are permitted and encouraged to post their work online (e.g., in institutional repositories or on their website), as it can lead to productive exchanges, as well as earlier and greater citation of published work (See the Effect of Open Access).
Abstract viewed = 118 times