Study on Risk Management in Financing and Operational of Grameen Bank Financing Concept in MBK Finance
Abstract
Objective – Poverty is one of the most fundamental issues that still surround the life of 29.89 million people of Indonesia (National Statistical Bureau data from January 2, 2012). During this time, the pattern of poverty alleviation programs undertaken by the government is a pattern of generosity. This pattern can directly exacerbate the poor morals and behavior. Ideally, poverty alleviation efforts are made by concrete steps, which empower poor `communities themselves.
In line with the theme of this research, one of the financial institutions (non-Banks) who cares and has the spirit to empower people to overcome poverty is Mitra Bisnis Keluarga (MBK). This study aimed to assess the financial risks and operational risks of implementation of Grameen Bank financing concept in MBK.
Methods - The method used in this research is literature review and qualitative descriptive study using actual MBK data.
Results - Results from this research showed that products with the concept of Grameen Bank financing is relatively safe in the terms of the financing risk, but requires more attention on operational risk and which can be implemented for large-scale poverty alleviation program.
Conclusion - The data showed that the risk of financing given to the poor (without collateral) is minimal and MBK actual data shows that the Operational self-sufficiency is relatively high at> 90%
Keywords :
MBK, Grameen Bank, Poverty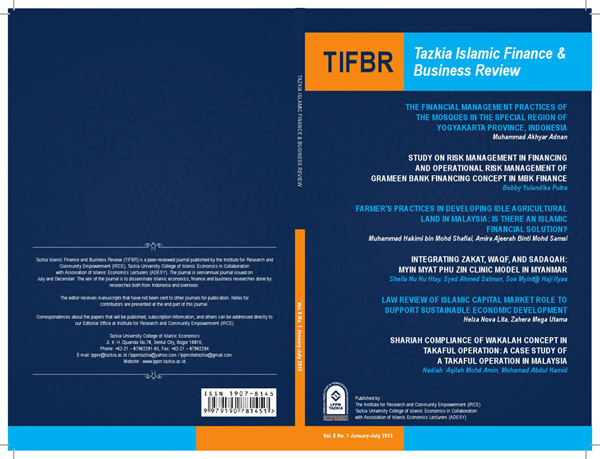 Downloads
License

Tazkia Islamic Finance and Business Review (TIFBR) is licensed under a Creative Commons Attribution-NonCommercial 4.0 International License.
Authors who publish with this journal agree to the following terms:
Authors retain copyright and grant the journal right of first publication with the work simultaneously licensed under a Creative Commons Attribution License that allows others to share the work with an acknowledgment of the work's authorship and initial publication in this journal.
Authors are able to enter into separate, additional contractual arrangements for the non-exclusive distribution of the journal's published version of the work (e.g., post it to an institutional repository or publish it in a book), with an acknowledgment of its initial publication in this journal.
Authors are permitted and encouraged to post their work online (e.g., in institutional repositories or on their website), as it can lead to productive exchanges, as well as earlier and greater citation of published work (See the Effect of Open Access).
Abstract viewed = 106 times