Farmers' Practices in Developing Agricultural Land in Malaysia: Is there an Islamic Microfinance Solution?
Abstract
Objective – This paper attempts to highlight the farmers' lives in Malaysia and their problems in developing idle agricultural land.

Methods - This paper is using descriptive and exploratory method of study which refer to the situation of agricultural sector in Malaysia.

Results - The scheme aPLS (agricultural production and loss sharing) that proposed cannot stand alone in the traditional fiqh to be implemented now. Therefore, the combinations of aPLS contract with ujrah principle are really needed. This is important to ensure the flexibility of the contract that can offer a fully comprehensive scheme of Islamic agricultural finance.

Conclusion – The land together with labour can be considered as a form of capital and therefore has a similarity to the contracts of mudaraba and musharaka. Hence, it can be said that these principles are "agricultural production and loss sharing (aPLS)" because land will naturally produce an output or a product. Muzara'a and musaqa therefore can be said to be contracts which are based on sharing output rather than sharing profit.

Keywords: Idle Agricultural Land, Islamic agricultural finance, Malaysia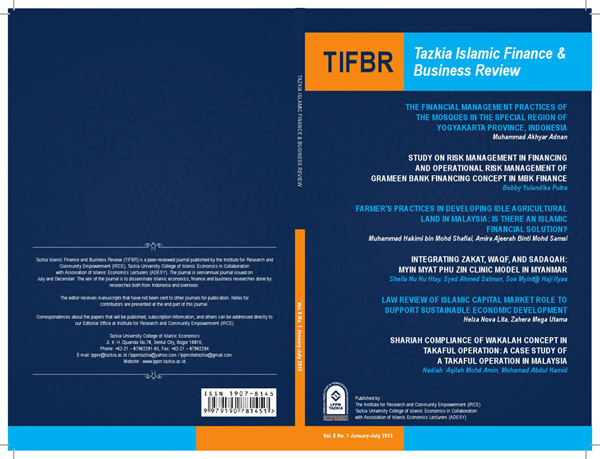 Downloads
License

Tazkia Islamic Finance and Business Review (TIFBR) is licensed under a Creative Commons Attribution-NonCommercial 4.0 International License.
Authors who publish with this journal agree to the following terms:
Authors retain copyright and grant the journal right of first publication with the work simultaneously licensed under a Creative Commons Attribution License that allows others to share the work with an acknowledgment of the work's authorship and initial publication in this journal.
Authors are able to enter into separate, additional contractual arrangements for the non-exclusive distribution of the journal's published version of the work (e.g., post it to an institutional repository or publish it in a book), with an acknowledgment of its initial publication in this journal.
Authors are permitted and encouraged to post their work online (e.g., in institutional repositories or on their website), as it can lead to productive exchanges, as well as earlier and greater citation of published work (See the Effect of Open Access).
Abstract viewed = 184 times