The Need of Standardization of Individual Zakat Calculation in Indonesia
Abstract
Objective – This research aimed to analyze zakat calculation practices from online providers. There are some differences in the calculation method, for example different treatment in zakatable deduction, types of income and zakat for business.
Methods - Twenty-three zakat online calculators are analyzed and then grouped into a main category. A simulation model is employed by inputting several common assumptions.
Results - The results showed that generally three zakat calculator become main providers and differences are still occur.
Conclusion – This research showed that the calculation of zakat should be simpler, standardized, and may not cause double zakat counting for profession-zakat. Government should intervene to provide a single zakat calculation method that must be refereed by all zakat institutions and link it to tax system.
Keywords: Zakat, accounting, calculation, online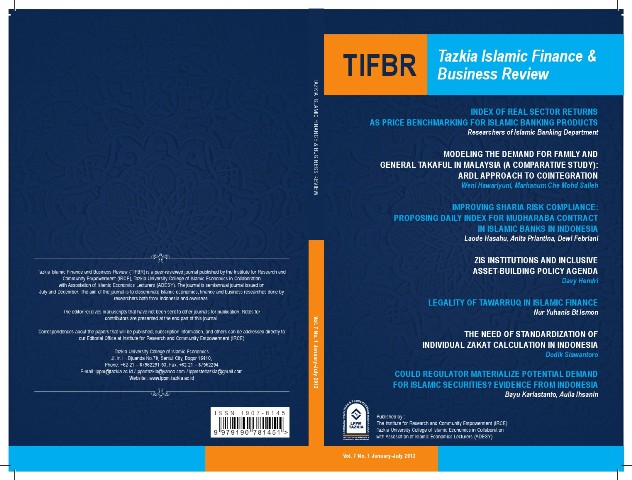 Downloads
License

Tazkia Islamic Finance and Business Review (TIFBR) is licensed under a Creative Commons Attribution-NonCommercial 4.0 International License.
Authors who publish with this journal agree to the following terms:
Authors retain copyright and grant the journal right of first publication with the work simultaneously licensed under a Creative Commons Attribution License that allows others to share the work with an acknowledgment of the work's authorship and initial publication in this journal.
Authors are able to enter into separate, additional contractual arrangements for the non-exclusive distribution of the journal's published version of the work (e.g., post it to an institutional repository or publish it in a book), with an acknowledgment of its initial publication in this journal.
Authors are permitted and encouraged to post their work online (e.g., in institutional repositories or on their website), as it can lead to productive exchanges, as well as earlier and greater citation of published work (See the Effect of Open Access).
Abstract viewed = 163 times