2023-10-11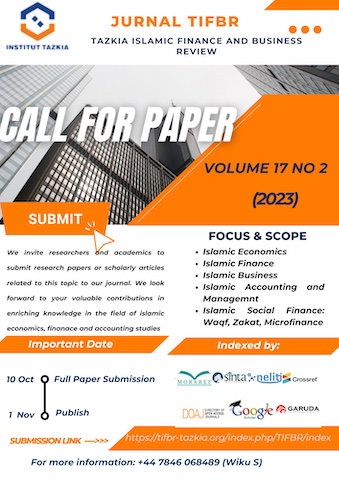 Call for Paper - Jurnal TIFBR
Dear Colleagues and Researchers,
We are excited to announce the Call for Papers for the Journal TIFBR! We invite scholars, researchers, and experts in the field to submit original research papers and contribute to the vibrant discussions and knowledge exchange.
*Submission Deadline*:
20 October : Full Paper Submission
15 November : Publish
We welcome papers on a wide range of topics related to Islamic Economics. Finance and Accounting Studies including but not limited to:
Islamic Economics
Islamic Finance
Islamic Business
Islamic Accounting and Managemnt
Islamic Social Finance: Waqf, Zakat, Microfinance
For detailed submission guidelines and more information, please visit our website: https://tifbr-tazkia.org/index.php/TIFBR/about
We look forward to receiving your submissions and engaging in fruitful discussions. Should you have any inquiries, please do not hesitate to contact us at (+44 7846 068489 (Wiku S))
Thank You.
Read more about Call for Paper - Jurnal TIFBR Volume 17 No. 2